Arrive ready. What to bring to paintball.
To be sure your day with us runs as smoothly as possible we have a few suggestions of what to bring to paintball along with a few obvious rules.
Your Fashion Statement
Apart from wearing enclosed footwear, we don't have any hard and fast rules on what you must wear on your day with us. Come along dressed up like you are headed for a formal night out if you really want, but for practical reasons we recommend wearing old, comfortable clothing. Our camouflaged combat overalls issued to you after you arrive and register protect the clothing underneath very well. Also, for the drive home we recommend a change of clothes in case you work up a sweat during the heat of battle.
Protecting Your Feet
We do insist that you wear covered footwear when playing paintball. Our fields are set in bush settings with various obstacles around from the humble twig to rocks. We suggest a light boot with ankle support as the best choice.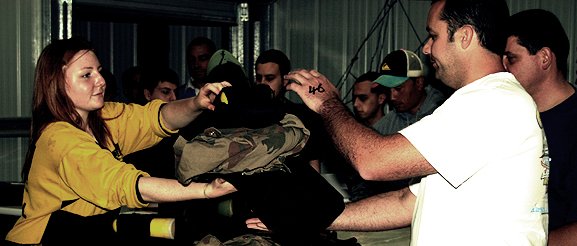 Fueling Up
Maintaining energy levels during your paintball experience is a great way to get the most out of your day. Bring your own food, snacks and non alcoholic drinks if you wish. Alternatively, you can also pre-order a pizza for lunch when you arrive from our on-site kiosk. Various cold drinks and chocolate snacks are available as well.
Hands Down A Good Idea
Without extra protection, your hands can become the target of several shots during paintball battle. You'll be hiding your body but invariably stick your gun out to take pot shots at the enemy. They see the movement and fire back and your hands take the hit if the enemy's aim is good. Although not harmful, a clenched hand being struck by a paintball can definitely cause some involuntary 'foreign language', if you understand what we are trying to say. However, you can purchase armoured paintball gloves from the on-site shop and they are yours to keep.
Extra Thoughts
It's very difficult to estimate how many paintballs each person will need on their day. Some players are able to manage their ammo well and others simply wish to fire at will! Imagine having the time of your life leading up to lunchtime, only to head home and miss out on games because you've run out of paintballs. In the excitement of freeing the prisoners or taking on the tanks it's easy to misjudge your appetite for unloading a serious paintball flogging on the enemy. To avoid disappointment and if your budget allows, bring some money for stocking up on extra paintballs. This way your awesome morning continues on to and becomes an awesome day you will treasure forever. Talk to our staff when you arrive, as you may like to upgrade your pre-paid package before your day begins for even bigger savings.
PLEASE NOTE: Due to firearm laws, all of our Delta Force Paintball centres are strictly drug and alcohol free zones. No illicit drugs or any alcohol whatsoever may be brought to our centres at any time. Persons found under the influence of drugs or alcohol will not be allowed to enter by law. No paintball markers (guns) are stored on site.