A paint ball day with Delta Force.
Paintball with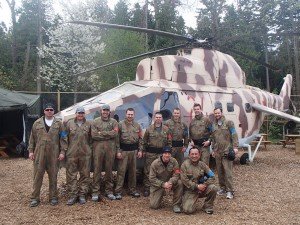 Delta Force has been described as the most exciting activity on dry land! Every week in the Vancouver area, more and more players are taking on the Delta Force challenge and realising the claim is true. It's exhilerating, it's extreme and most importantly of all – it's safe.
Celebrate any occasion with family and friends. A birthday party or family reunion perhaps. A stag or hen's party maybe. Treat your employees and boost company moral and productivity or maybe just get a group of friends together and see who real 'Rambo' talent hidden within. Whatever the occasion we know you'll have an absolute blast at Delta Force Paintball.
When you arrive at our centre you will be registered and then issued with all of the essential items you will require for your paintball adventure. A protective goggle set and a full-length, camouflaged combat suit will be bolstered with custom-designed body armour. A 400 ball capacity ammunition belt completes the fit-out. For a few dollars you can even purchase armoured gloves to use and keep and go into combat with full cover from head to toe.
An essential safety briefing is given to all players before the action begins. This familiarises the players with all rules and regulations for the day, how the games will precede and informs them on how to use their paintball weaponry.
Once the briefing is completed you and your squad will then proceed to the gun zone where you'll be issued with a 0.68 caliber paintball gun. You will have an opportunity now, if you wish, to practice your shooting on our target range. Next it's off to the action-packed game zones for some extreme paintballing!
After a few different game scenarios, you and your team will enjoy a lunch break in base camp where you can buy some snacks and drinks or eat a lunch you bought from home. You'll be able to discuss your strategies and, if necessary, stock up on more ammo ready for the afternoon's variety of missions.
A full day paintball adventure will see you experience many challenges, from the fast and the furious action of speedball and x-ball, to the more strategic Prison Break where you'll fight in and around a real bus. Be sure to also use the natural terrain to your advantage and try to work as a team and you'll be sure to enjoy your share of successes during the day.
With these few tips you and your team will be well on your way to writing your names into Delta Force Paintball history. Our centre caters to groups of all sizes and the facilities in our base camp make it a comfortable day out for both players and non-players alike.
It's a fun, interactive day out that you make as energetic as you wish. Round up your friends, family and colleagues and get set for an epic paintball battle.