Do you have a real passion for paintball?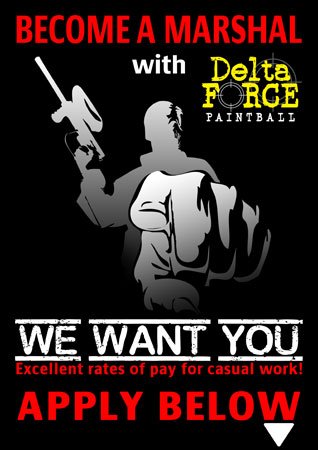 Applying for a job with Delta Force Paintball means you are looking at an exciting work experience in the outdoors that you'll remember for the rest of your life! You'll need to enjoy working with other staff and customers, and have an outgoing personality. You'll need to have a willingness to learn and possess superb interpersonal skills. If this all sounds like you, we want you to join our team of motivated people who strive each day to deliver our customers the best experience possible.
Read below as one of our valued team members shares their thoughts about how working for Delta Force Paintball…
Work History: a Canadian who has worked for Delta Force in Canada now since 2012.
"So I started work with Delta Force Paintball at only 21 yrs of age and I was quite certain it would be a temporary gig. After all, how much could actually be involved in a day of paintball? I really thought I'd just be helping people load guns and tell them how to play or something. I'm still working here because I was so wrong!
Turns out that to be a professional paintball marshal you need to learn a host of skills. It's not only about engaging the players and making sure they are safe and happy. I've also learnt many ways to manage crowds and different types of folk. I've learned how to strip, clean and maintain a paintball gun, even while a game is in progress. I've learnt how to work and look after the compressor and other equipment along with charging air bottles. The ongoing maintenance around the centre also has taught me me several skills with tools which is very handy.
It's safe to say I'm still learning, still enjoying and working my way towards a management position as well."
– Stace Watson